Re: Identification Japanese print
---
[ Follow Ups ] [ Post Followup ] [ Ukiyo-e Q & A ]
---
Posted by Hans Olof Johansson (80.217.110.175) on March 04, 2019 at 16:19:05:
In Reply to: Re: Identification Japanese print posted by Gustavo on March 03, 2019 at 20:09:14: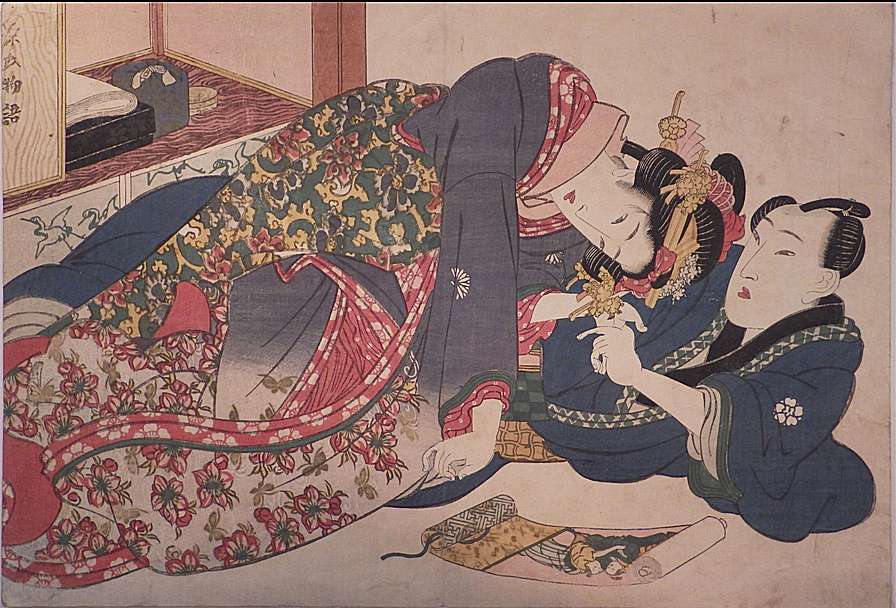 https://data.ukiyo-e.org/uploads/images/e1a4023efed0bab428b95679f3017ba4.jpg
Gustavo (and Alec),
I am pleased to see that I was right. :-) It is indeed Keisai Eisen's signature. Possibly it's the very first picture in a shunga series.
Above is a very similar print by Eisen with an only partially visible title; "Abuna-e genji monogatari" (危絵源氏物語 - "Risqué picture of the Tale of Genji"
The presence of a signature in Gustavo's print, together with the absence of publisher's and censor's seals, makes me believe it is a later reproduction, however.
Perhaps someone can interpret the title of the book they are reading - it doesn't seem to be the Tale of Genji in this case.
Best regards,
Hans Olof


---
---