Re: Artist help
---
[ Follow Ups ] [ Post Followup ] [ Ukiyo-e Q & A ]
---
Posted by Alec W. (76.98.179.206) on March 05, 2019 at 04:32:10:
In Reply to: Artist help posted by Crispin A. on March 03, 2019 at 21:26:58: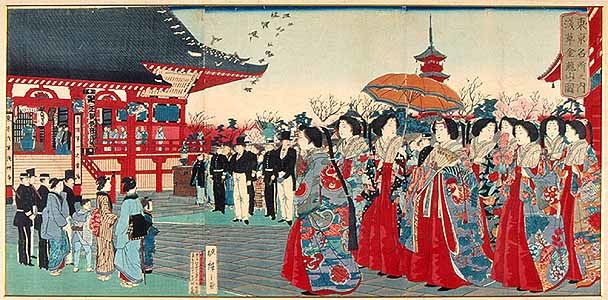 https://data.ukiyo-e.org/uploads/scaled/aedc9b379a4027a30ca18789181bf370.jpg
These are the center and right sheets of a triptych by Hiroshige III. A (small) image of the whole design can be found here:
http://www.chinya.co.jp/gallery/pages/1879-001.html
The title reads "東京名所之内浅草金龍山ノ図" (something like "Tōkyō meisho no uchi asakusa kinryūzan no zu"), which translates, I think, to something like "Famous Places in Tōkyō: Asakusa Golden Dragon Temple".
The publisher's colophon (where the date would be found on a print of this era) is on the sheet you don't have, but the linked site gives a date of 1879.


---
---