Re: Identify or Translate
---
[ Follow Ups ] [ Post Followup ] [ Ukiyo-e Q & A ]
---
Posted by Alec W. (76.98.179.206) on March 05, 2019 at 05:12:48:
In Reply to: Identify or Translate posted by Marlen Cano on March 03, 2019 at 21:22:18: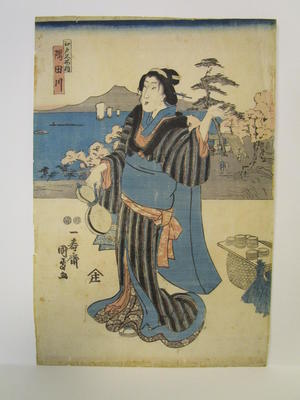 https://data.ukiyo-e.org/uploads/scaled/9b385f067d25c227083051bef0f49e28.jpg
This is Kunisada II, signing "Ichijusai Kunimasa ga". The title reads "Sumidagawa", and the series title is "Edo meisho [no] uchi" ("Famous Views of Edo, Sumida River"). The "paired nanushi" censor seals date the print to 1847-1852.
The only copy of this print I have been able to find online is in this auction lot:
https://www.bonhams.com/auctions/24862/lot/1033/
As you can see, their copy of the print sports a slightly different color scheme, lacking the vermillion obi and trim on yours.


---
---