Re: Help ID not found
---
[ Follow Ups ] [ Post Followup ] [ Ukiyo-e Q & A ]
---
Posted by Alec W. (76.98.179.206) on March 06, 2019 at 04:14:26:
In Reply to: Help ID not found posted by Kap Ali on March 05, 2019 at 23:59:53: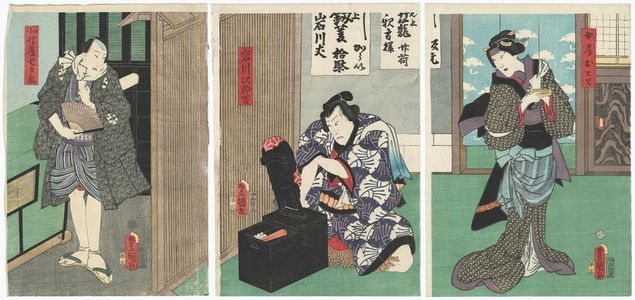 https://data.ukiyo-e.org/mfa/scaled/sc189737.jpg
This s a design by Kunisada I, signing "Toyokuni ga" (豊国画). The censor seal dates the print to 1859, 7th month. The publisher seal is that of Maruya Jinpachi. Based on the composition, I would assume this to be one sheet of a triptych design.
The text in the red cartouche reads "岩川治郎吉" ("Iwagawa Jirokichi"). This is the name of the main character in a sumo-themed drama called "Sekitori Senry˘ Nobori" (関取千両幟), about which:
https://www.kabuki21.com/senryo_nobori.php
I have not found another copy of this exact print, but here is a similar one from the same month (from a different publisher):
https://www.mfa.org/collections/object/486755
It seems that this play was commonly performed as a second feature or interlude rather than as a main feature; MFA has another such design featuring the same play from the previous year with different actors.


---
---