Re: Help identifying this Tosa School pr
---
[ Follow Ups ] [ Post Followup ] [ Ukiyo-e Q & A ]
---
Posted by Alec W. (76.98.179.206) on March 14, 2019 at 13:40:13:
In Reply to: Help identifying this Tosa School print posted by Peter M on March 14, 2019 at 01:07:36: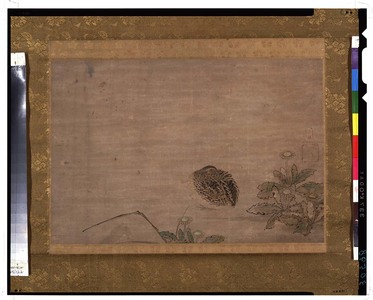 https://data.ukiyo-e.org/uploads/scaled/c8157083f362d430aac3d2d44d292fed.jpg
I think this may be Ittoku 一得 (一徳), about whom Roberts says:
"fl. early 17th century. Tosa painter. Little information about him; is assumed to have belonged to the Tosa school and may have been a pupil of Tosa Mitsuyoshi. Said to have specialized in painting quails. Very few works known, all of small size."
There are a couple of his quail paintings linked from his Japanese-language wikipedia entry, including one that bears very similar seals to the one you have:
https://webarchives.tnm.jp/imgsearch/show/C0030598


---
---