Re: Does anyone recognize this image or
---
[ Follow Ups ] [ Post Followup ] [ Ukiyo-e Q & A ]
---
Posted by Alec W. (76.98.179.206) on March 17, 2019 at 19:08:43:
In Reply to: Does anyone recognize this image or arti posted by Stephen Seitz on March 17, 2019 at 18:17:35: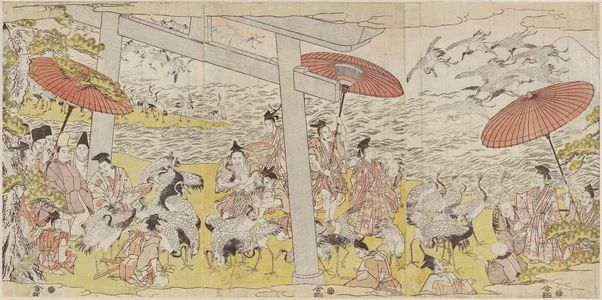 https://data.ukiyo-e.org/mfa/scaled/sc214818.jpg
It is indeed the left sheet of a triptych. Several museums have copies, none of which seem to be signed. MFA says "artist unknown, attributed to Kitao Masayoshi":
https://www.mfa.org/collections/object/497814
I notice your print is missing the publisher and censor seals present on the museum copies... perhaps a this is late impression made with original blocks from which the seals had been struck off?


---
---