Re: Print Artist and Origins
---
[ Follow Ups ] [ Post Followup ] [ Ukiyo-e Q & A ]
---
Posted by Guy Pepermans (84.197.53.216) on March 27, 2019 at 11:39:29:
In Reply to: Print Artist and Origins posted by John Mavor on March 26, 2019 at 18:21:08: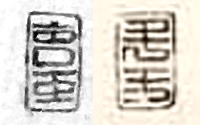 https://data.ukiyo-e.org/uploads/images/21352f18ed4edce91f64bca9b50497e4.jpg
The separate rectangular seals next to ¡®kiwame¡¯ seals on both prints draw my attention. I believe they could be previously unrecorded date seals from 1805.
I tend to read these seals as follows:
1- Seal MFA Boston: 丑十¡¡Ushi (Ox) 10 = 1805, month 10
2- The seal print John is harder and more intriguing to decipher: eventually 丑十一¡¡ Ushi (Ox) 11 = 1805, month 11
Further comments or insights are very welcome.
BTW: the girl depicted in John¡¯s print plays the ¡®koky¨±¡¯ (胡弓).
Guy.



---
---