Re: help with I.D. please
---
[ Follow Ups ] [ Post Followup ] [ Ukiyo-e Q & A ]
---
Posted by Alec W. (204.183.95.254) on April 02, 2019 at 21:53:20:
In Reply to: help with I.D. please posted by Eric Lund on April 02, 2019 at 20:49:33: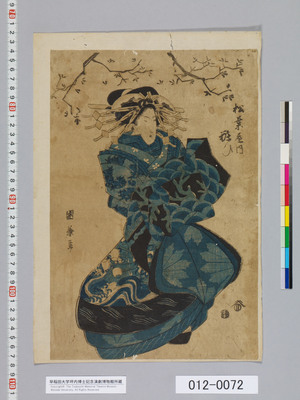 https://data.ukiyo-e.org/uploads/scaled/9973dbfb04242b239543688fd9998bdf.jpg
This is Utagawa Kunikane, signing "Kunikane hitsu". Pictured is a courtesan of the Yoshiwara brothel Matsubaya (松葉屋). Her name is given by the Waseda University Theatre Museum, which has a copy, as "粧ひ" -- I don't know the correct reading of that, perhaps "Shōhi"?
Waseda's copy can be found here:
https://archive.waseda.jp/archive/detail.html?arg={%22subDB_id%22:%2252%22,%22id%22:%22174588;1%22}&lang=en
---
---