Re: Information on print
---
[ Follow Ups ] [ Post Followup ] [ Ukiyo-e Q & A ]
---
Posted by Alec W. (76.98.179.206) on April 19, 2019 at 15:35:35:
In Reply to: Information on print posted by Yumiko on April 19, 2019 at 03:22:55: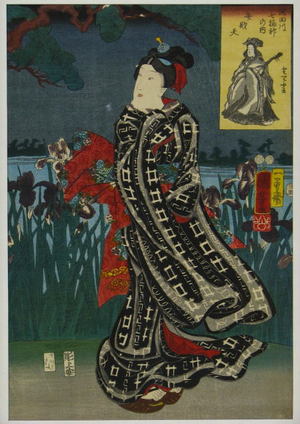 https://data.ukiyo-e.org/uploads/scaled/b70d976effdb442f3b6876a9145923c8.jpg
This is a design from Kuniyoshi's 1853 series "Sumidagawa shichifukujin no uchi" (Seven Gods of Good Fortune on the Sumida River, 隅田川七福神の内), pairing actors with each of the gods. This design is for Benzaiten, but I do not know who the depicted actor is. The inset box, designed by Kuniyoshi's eldest daughter, is signed "Tori-jo ga" (登里女画).
MFA in Boston has several prints from this series, though not this one:
https://www.mfa.org/collections/object/461300
https://www.mfa.org/collections/object/498454
https://www.mfa.org/collections/object/498455
The only other copy of this design I've found so far can be found here:
http://www.tanbi.jp/syoseki/image/55417/55417.html


---
---