Re: Information please
---
[ Follow Ups ] [ Post Followup ] [ Ukiyo-e Q & A ]
---
Posted by Alec W. (76.98.179.206) on April 21, 2019 at 00:17:34:
In Reply to: Information please posted by Yumiko on April 19, 2019 at 02:55:04: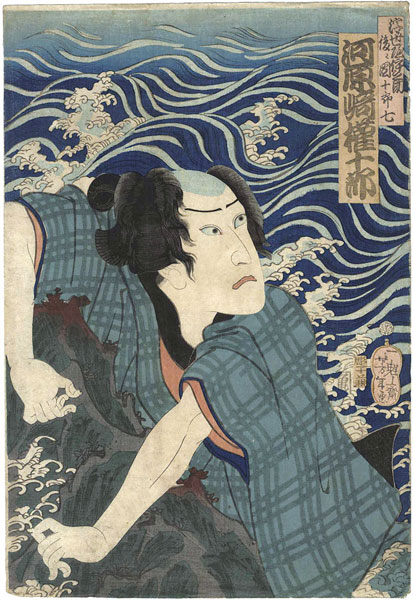 https://data.ukiyo-e.org/uploads/images/2b93b826eab38c012056f606c6e7469f.jpg
This a design by Tsukioka Yoshitoshi, signing "Ikkaisai Yoshitoshi ga" (一魁齋芳年画). The censor seal dates the design to the 8th lunar month of 1862. The print depicts the actor Kawarasaki Gonjūrō (河原崎権十郎) in the role of Ukiyo Inosuke.
From what I can tell, most of Yoshitoshi's actor prints of this era were executed as triptychs, and my guess is that this sheet belongs to one, but I have not found any evidence that directly supports this conjecture.
For other impressions of this design, see:
http://yamada-shoten.com/onlinestore/detail.php?item_id=32905
http://collection.sdmart.org/Obj7556
The label from the San Diego Museum of art suggests that this design relates to a performance at the Ichimura theater.


---
---