Re: Cat demon diptych
---
[ Follow Ups ] [ Post Followup ] [ Ukiyo-e Q & A ]
---
Posted by Judy Hahn (80.217.115.109) on April 22, 2019 at 20:03:16:
In Reply to: Cat demon diptych posted by Yumiko on April 22, 2019 at 04:48:11: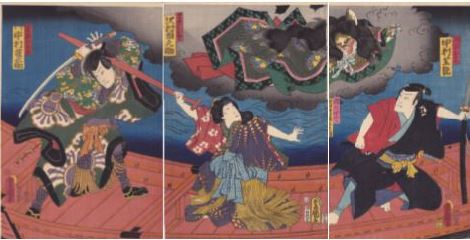 https://data.ukiyo-e.org/uploads/images/be0fe6f63c4855da178896ce23467cc9.jpg
Regarding this cat witch, here is Information from the Lyons Collection, Museum of Fine Arts in Boston, Victoria and Albert Museum and others
The triptych is:
artist: Kunisada / Toyokuni III

Nakamura Jakunosuke -- 中村雀之助 as Arakoma Kotarō - 荒駒小太郎
Sawamura Tanosuke III as Ryōshi Onami
Ichimura Uzaemon XIII -- 市村羽左衛門 as Neko no Chunori -- 猫の中のり-- the cat monster
Nakamura Shikan IV -- 中村芝翫 as Suwa Kazuemon -- 頂波数右衛門

play Tōkaidō Iroha Nikki

date: 1861, 6th month
date / censor seal: censor seal: 6/1861 and aratame
publisher: Izutsuya Shōkichi -- (Marks 188 - seal 24-055)
carver: Hori Chō

A print in the Museum of Fine Arts ( www.mfa.org) accession number accession number: 11.40747 is of the same play with the same characters and actors. They identify the location of this scene as the Fujikawa Station. Wikipedia says that Fujikawa-shuku (藤川宿) was the thirty-seventh of the fifty-three stations of the Tōkaidō. It located in the present-day city of Okazaki. [At the time, Okazaki and Fujikawa were much smaller villages than the city of Okazaki is today, incorporating what was Fujikawa]
There are a number of stories of cat witches, some along the Tokaido. Okazaki appears to be the main one, but also Okabe and Shirasuka also feature stories of cat witches at those stations. So the author / director of this particular version of the play may have moved the story from Okazaki to a nearby station for convenience - to perhaps use Okazaki.
The Lyons Collection print is at: http://woodblockprints.org/index.php/Detail/Object/Show/object_id/786
The Victoria and Albert print is at: www.vam.ac.uk with accession number E.6150:1-1886
Fuji Arts described the scene as:
kabuki play "Tokaido Iroha Nikki,"
a tale about the beauty Tatsuyo, who is in reality the monster of the cat stone. Here, Tatsuyo takes her true form as she floats on a cloud of smoke The samurai Suwa Kazuemon brandishes his sword at the creature as Tatsuyo's younger sister Okiku tries to impede him with the boat oar.
Enjoy your great print! It remains my favorite of my cat witch prints. The image is of my copy.


---
---