Re: Inforation sought
---
[ Follow Ups ] [ Post Followup ] [ Ukiyo-e Q & A ]
---
Posted by Alec W. (76.98.179.206) on April 22, 2019 at 23:09:45:
In Reply to: Inforation sought posted by Yumiko on April 19, 2019 at 03:05:08: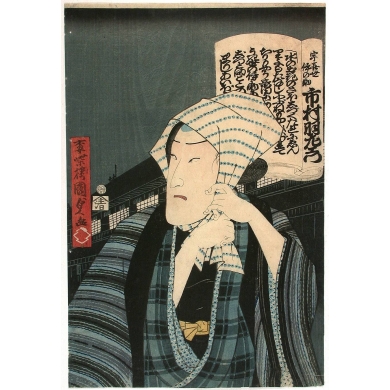 https://data.ukiyo-e.org/uploads/images/28e66e7db9be15ce0f90972279d309c5.jpg
I haven't been able to find much about this one, but here's what I've got so far...
The design is by Kunisada II, signing "Baichōrō (梅蝶楼) Kunisada ga". The censor seal is for 1863, 12th month, and the publisher seal is that of Shimizuya Naojirō. It looks to me that the actor is again Kawarasaki Gonjūrō, but I don't have any idea of the role or play.
The series seems to be hard to find other examples of, but here's one I happened to find while looking for something else:
http://www.kotobuki.de/art/artwork/kabuki-e-theatre-print/6715?room=61
Hope this helps a little,
-A


---
---