Re: Hokusai print, 1800, Wisteria Flower
---
[ Follow Ups ] [ Post Followup ] [ Ukiyo-e Q & A ]
---
Posted by Alec W. (76.98.179.206) on May 15, 2019 at 01:52:12:
In Reply to: Hokusai print, 1800, Wisteria Flowers at posted by Larry Sarchin on May 14, 2019 at 18:22:31: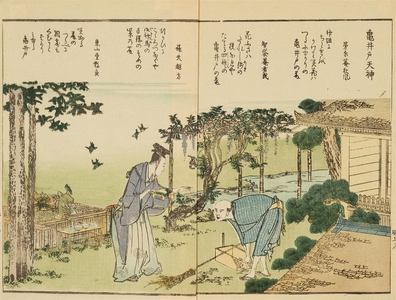 https://data.ukiyo-e.org/uploads/scaled/d7541bf12e76be0974500931b7658e17.jpg
I see that this spread, and four others from the same book, appeared in a online dealer catalog with some additional information:
https://www.lempertz.com/en/catalogues/lot/1092-1/139.html
From the site: "...double page colour illustrations from Tôto shôkei ichiran, a two volume illustrated book with famous views of the Eastern Capital, originally published in 1800 by Tsutaya Jûzaburô under the title Tôto meisho ichiran. Above each image kyôka verses."
This design is Kameido Tenjin Shrine.
-A


---
---