Re: Print Information
---
[ Follow Ups ] [ Post Followup ] [ Ukiyo-e Q & A ]
---
Posted by Alec W. (76.98.179.206) on June 08, 2019 at 17:13:18:
In Reply to: Print Information posted by Chris Brooks on June 08, 2019 at 02:22:53: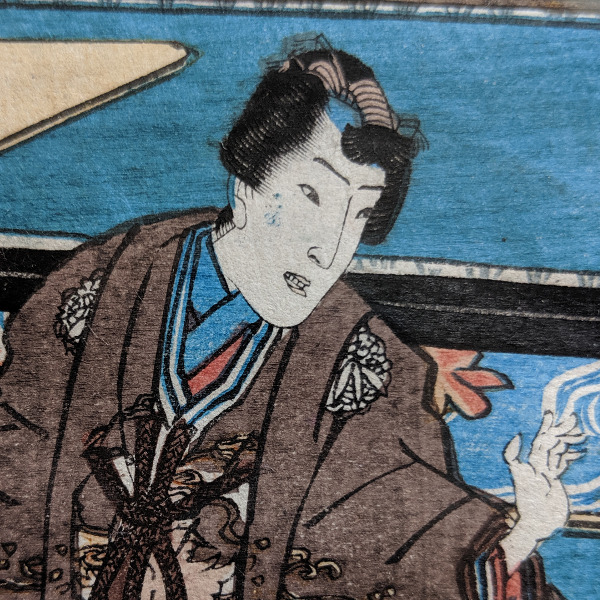 https://data.ukiyo-e.org/uploads/images/3b79a6fa37b185aa2a5865423a25a38a.jpg
This is a type of "trick picture" known variously as "komochi-e" or "shikake-e". Such things were popular in the late Edo period and well into the Meiji. They could simulate stage effects on actor prints (costume changes, appearance of ghosts, etc), but were also used in other genres, including erotic works. They were sometimes even included in illustrated books.
I don't recognize this particular design, but based on the crest and hairstyle I think it's probably a depiction of Mitsuuji from the Tale of Genji. My guess is that it's by Kunisada or one of his students; see attached detail from my copy of No. 48 from the 1852 Kunisada series "Magic Lantern Slides of That Romantic Purple Figure" (Sono sugata yukari no utsushi-e).


---
---