Re: 1950's era Block print
---
[ Follow Ups ] [ Post Followup ] [ Ukiyo-e Q & A ]
---
Posted by Alec W. (76.98.179.206) on June 10, 2019 at 16:34:37:
In Reply to: 1950's era Block print posted by Lynn C Shelley on June 09, 2019 at 20:29:47: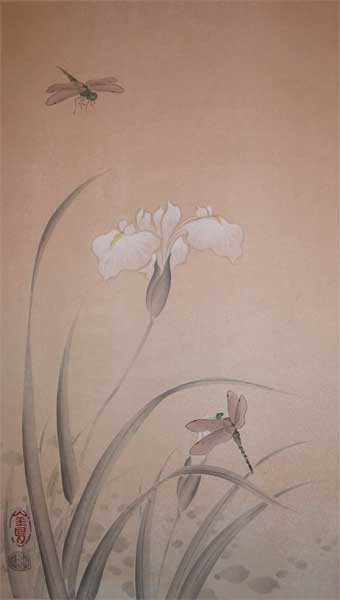 https://data.ukiyo-e.org/japancoll/images/p180-kincho-iris-and-dragonflies-8991.jpg
The lower (octagonal) seal belongs to Kyoto-based publisher Uchida, and reads "版元 うちだ" ("Hanmoto Uchida").
The upper seal is presumably an artist seal. These use stylized archaic character forms and can be hard to read, but I am inclined to transcribe this one as "金鳥", possibly read "Kinchō". And indeed, ukiyo-e.org finds a few prints by this artist listed by Ronin under "Kincho". I have not found any other information about this artist.


---
---