Identify seal
---
[ Follow Ups ] [ Post Followup ] [ Ukiyo-e Q & A ]
---
Posted by Chris Brooks (136.33.70.205) on June 11, 2019 at 23:58:51: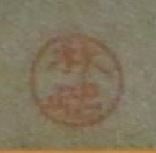 https://data.ukiyo-e.org/uploads/images/5b200371515ef08d8e1e41a78901a8a3.jpg
Hello
The local auction company has a Kiyonaga print for sale which is good quality but I think it must be a reprint. I have found the print in the ukiyo-e.org database and the three examples are missing a read seal in the lower right hand corner. I'm guessing it is either a collectors seal or the seal of a republisher. I haven't found this on the collectors seals associated to this webpage and I do not know of a webpage with collectors seals. Can anyone tell me who the seal belongs to?
Thanks
Chris


---
---