Re: Print identification
---
[ Follow Ups ] [ Post Followup ] [ Ukiyo-e Q & A ]
---
Posted by Alec W. (76.98.179.206) on June 24, 2019 at 17:20:05:
In Reply to: Print identification posted by Barry Knight on June 23, 2019 at 19:01:51: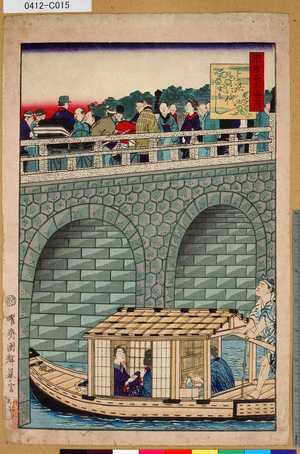 https://data.ukiyo-e.org/metro/scaled/0412-C015.jpg
I don't have a full identification, but some observations:
The censor seal is for 1874/03.
The publisher seal belongs to Kiya Sōjirō, and is in Marks as 26-143. Marks gives the following transcription and reading for the seal: 馬喰四, 木屋板 (Bakuro Yon, Kiya hon).
According to Marks, this publisher issued several series of scenes around Tokyo by Kuniteru II in 1874, so that would be my first guess as to what this is. As to why there is no title or series name present, I wonder if this print has been cut down from a vertical oban design? Have a look at this related design by Kuniteru II from the previous year and you'll get a sense of my thinking:
http://archive.library.metro.tokyo.jp/da/detail?tilcod=0000000003-00007650
-A


---
---