Re: Woodblock identification
---
[ Follow Ups ] [ Post Followup ] [ Ukiyo-e Q & A ]
---
Posted by Alec W. (76.98.179.206) on July 03, 2019 at 17:41:21:
In Reply to: Woodblock identification posted by Ann Thane on July 03, 2019 at 06:20:55: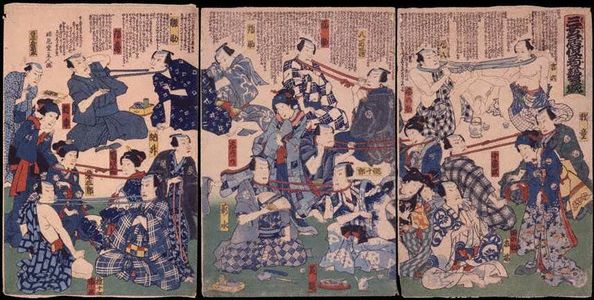 https://data.ukiyo-e.org/uploads/scaled/7885ed69041e8f834de1a75bcc1c9d64.jpg
This design is cataloged by both Waseda University and Japan Arts Council (links below). Neither offers any artist attribution, but JAC suggests a publication date of 1863-1865.
Given the lack of authorship or publication information on the print (or any censor seals) I would guess that the text probably contains some sort of criticism of government policy. Such open (but anonymous) criticism was much more common during the Bakumatsu than previously.
https://archive.waseda.jp/archive/detail.html?arg={%22subDB_id%22:%2252%22,%22id%22:%22175789;1%22}&lang=en
http://www2.ntj.jac.go.jp/dglib/collections/view_detail_nishikie?division=search&class=nishikie&did=280


---
---