Re: Looking for information on a nic
---
[ Follow Ups ] [ Post Followup ] [ Ukiyo-e Q & A ]
---
Posted by Alec W. (76.98.179.206) on July 10, 2019 at 22:44:29:
In Reply to: Re: Looking for information on a nice fr posted by Bryan Chernick on July 10, 2019 at 14:49:28: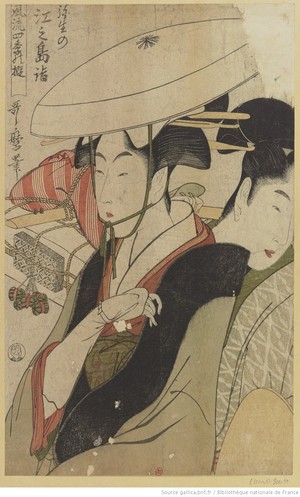 https://data.ukiyo-e.org/uploads/scaled/d09e0e9309dd399f70f8555d53ae49cd.jpg
As you already figured out, this is a design by Kitagawa Utamaro. The crane emblem is a publisher seal for Tsuruya Kiemon.
This design is "Yayoi no enoshima mōde" [something like "Springtime visit to the Enoshima shrine", I think] (弥生の江之島詣) from the series "Furyu shiki no asobi ["Elegant Pleasures of the Four Seasons"] (風流四季の遊), originally published c. 1798-1799.
I agree the discoloration is quite odd - I don't know what to make of it.
There is an impression of this design at the Bibliothèque nationale:
https://gallica.bnf.fr/ark:/12148/btv1b105265247.item
As you can see from the BnF impression, many of the original colors were quite fugitive. Given the large number of reprints of Utamaro designs in general, and the brightness of the colors on your print, I would tend to assume it to be a 20th-century reprint.


---
---