Re: Identification
---
[ Follow Ups ] [ Post Followup ] [ Ukiyo-e Q & A ]
---
Posted by Alec W. (174.105.163.103) on August 28, 2019 at 06:06:23:
In Reply to: Identification posted by Tomek on August 27, 2019 at 18:03:26: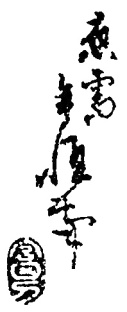 https://www.ukiyoesig.net/images/ndl/toshitsune_887387_3.jpg
I believe the artist is Inano Toshitsune 稲野年恒 (1858-1907), signing "Toshitsune hitsu" 年恒筆. See attached image for a similar Toshitsune signature from an illustration in an 1893 novel.
I have not been able to identify the book this page comes from.
-A


---
---