Re: TRIPTYCH HELP
---
[ Follow Ups ] [ Post Followup ] [ Ukiyo-e Q & A ]
---
Posted by Alec W. (174.105.163.103) on September 28, 2019 at 16:47:44:
In Reply to: TRIPTYCH HELP posted by GARY SCHREFFLER on September 28, 2019 at 16:05:41: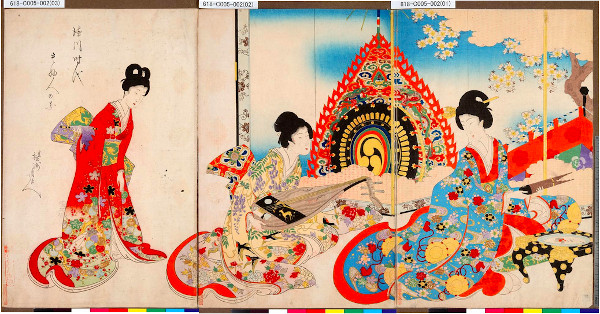 https://data.ukiyo-e.org/uploads/images/56162f0895263b1674dd15c45b9b4e04.jpg
This is Chikanobu, signing "Yōshū Chikanobu" 楊洲周延. The series is "Tokugawa jidai kifujin no zu" 徳川時代貴婦人の図, which Yamada Shoten translates as "Noble Ladies in the Tokugawa Era". They list ten designs from the series, and assign a publication date of 1897:
https://www.yamada-shoten.com/onlinestore/detail.php?item_id=35625
There is also an impression of this design in the collection of the Tokyo Metro Library:
http://archive.library.metro.tokyo.jp/da/detail?tilcod=0000000003-00051245
Looking at the colors in the different impressions, it appears to me that most of the pigments used were pretty stable, except the blue used in the sky and elsewhere. It is also possible that different colors were used in different printings; this was a common practice in this era of print publishing.
-A


---
---