Help with ID
---
[ Follow Ups ] [ Post Followup ] [ Ukiyo-e Q & A ]
---
Posted by Louis VA (71.51.186.109) on October 15, 2019 at 18:44:18: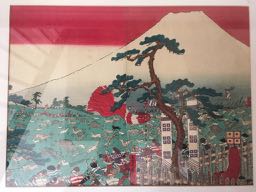 https://data.ukiyo-e.org/uploads/images/f7a120cb0f5bbb9b91b9bab5c46cb346.jpg
I have had this print for a while and only recently discovered all of the online sources to help identify Japanese prints. I have had luck with 3 other prints I have but I'm not having any luck with this one.
I suspect that the subject is Lord Yoritomo's Hunt on Mt. Fuji which I have found several other examples of, but nothing quite like this. It is a diptych.
I tried searching by image at Ukiyo-e.org with no luck. I had already looked at al the results for "hunt," "Fuji," etc so that was not surprising. But I'm hoping that upload will help me identify it.
The print is mounted behind glass so it's slightly obscured by a reflection in the photo I uploaded. I could take it out of the frame and/or provide more detailed images if that helps.


---
---