Re: i need helf for identification p
---
[ Follow Ups ] [ Post Followup ] [ Ukiyo-e Q & A ]
---
Posted by Hans Olof Johansson (80.217.98.9) on November 05, 2019 at 09:42:18:
In Reply to: Re: i need helf for identification p posted by giorgia on November 04, 2019 at 10:48:01: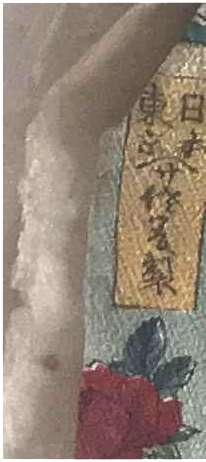 https://data.ukiyo-e.org/uploads/images/eca8086b032b099c3997ef6d7552b38f.jpg
No, that's what I tried to tell you. As far as I know, there is no information available about the identity of the artist.
By the way, in your photo there is what appears to be a part of another print with a yellow cartouche (see above) with the text "日本 東京" ("Nihon T˘kyo" and a publisher's name. Is that yet another print with similar flowers and a red sky? If so, does it carry a signature or other writing in Japanese?
---
---