Re: Shuncho woodblock
---
[ Follow Ups ] [ Post Followup ] [ Ukiyo-e Q & A ]
---
Posted by Guy Pepermans (84.197.53.216) on November 24, 2019 at 14:05:54:
In Reply to: Re: Shuncho woodblock posted by John Lord on November 21, 2019 at 23:20:32: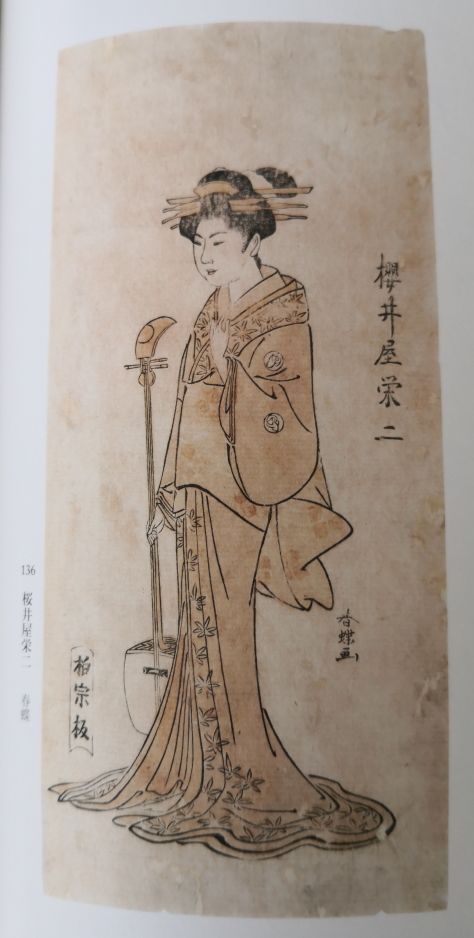 https://data.ukiyo-e.org/uploads/images/f17f968ff219737b1ed380d0eb1ce43e.jpg
Almost all Kappazuri prints have perished over time, due to the small size, the delicacy of the paper and the relatively low esteem in which they have been held when compared with nishiki-e. The vast majority of stencil-print designs are now very difficult to find, regardless of condition (source Osaka Prints).
As mentioned, your print is a very early example of the depiction a Gio geik˘ or courtesan in a realistic, natural manner (cfr the work of the painter Gion Seitoku) and preceeds over more than a decade the more formal 'nerimono-e' depicting individual Kyoto courtesans from the different teahouses in the Gion district, during the annual Costume Parade. These nerimono-e were issued between 1813 and ca 1830.
A very similar early kappazuri-e depicting the courtesan Eiji from the same Sakuraiya house by the Kyoto artist Shunch˘ (春蝶) is dated 1798-1804 (late Kansei - Kyowa era)*. That could be the reason that your print was attributed to an artist Shunch˘, but as far as I can see, the signatures are different.
*Tokubetsuten, Kamigata no ukiyoe : Ōsaka, Kyōto no sui to waza (Ukiyo-e of the Kamigata Area: the sophistication of Osaka and Kyoto artists), 2014, cat. 136.
Guy.



---
---