Puzzling Meiji print
---
[ Follow Ups ] [ Post Followup ] [ Ukiyo-e Q & A ]
---
Posted by Alec W. (174.105.163.103) on December 06, 2019 at 21:07:51: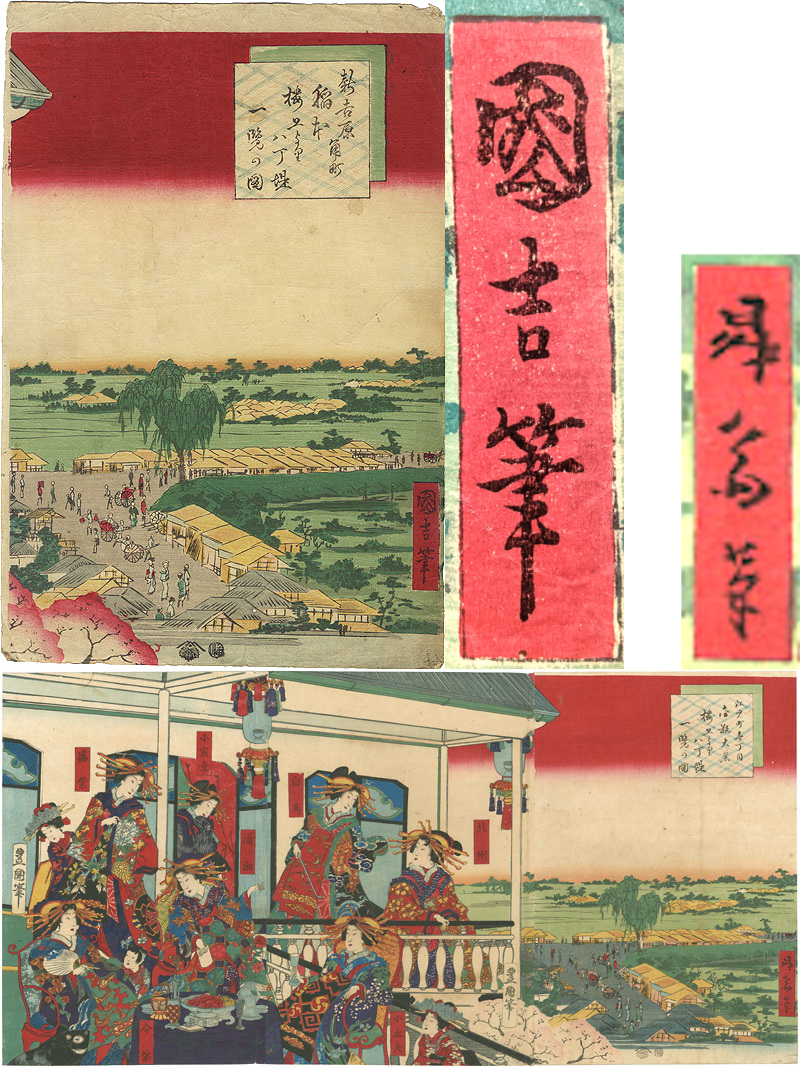 https://data.ukiyo-e.org/uploads/images/e32c793dbd70939152b82e854080b9b3.jpg
Hi all --
I've recently acquired a rather nondescript sheet from an early Meiji triptych design, but have discovered two odd things about it that I'm trying to understand.
The first oddity is the signature [top sheet in attached image], which looks to me to be "國吉筆" I suppose you would probably read that "Kuniyoshi", or maybe "Kunikichi", but I can find no trace of such a name used by any ukiyo-e artist working at that time.
The other puzzle is that I've found an image of the full design offered by Yamada-Shoten (https://www.yamada-shoten.com/onlinestore/detail.php?item_id=42013). Their impression [bottom part of attached image] has a slightly different title and, strangely, a different signature, that of Ikkei signing "Shōsai hitsu" 昇齋筆. Their copy has the title "Edomachi itchi-chōme kanakame(?) daikokurō ue yori hatchōdzutsumi ichiran no zu" 江戸町一丁目金瓶大黒楼上より八丁堤一覧の図, whereas mine has "Shin yoshiwara kadomachi inamotorō ue yori hatchōdzutsumi ichiran no zu" 新吉原角町稲本楼上より八丁堤一覧の図. I guess both are to be understood as views down toward the Nihon Embankment from the upper floor of a Yoshiwara brothel, but different brothels? And why is the embankment referred to as Hatchō Embankment? Some sort of mitate connecting places in Edo to Stations of the Kisokaido?
Any insights much appreciated!
-A



---
---