Re: Kuniyoshi
---
[ Follow Ups ] [ Post Followup ] [ Ukiyo-e Q & A ]
---
Posted by Alec W. (174.105.163.103) on December 11, 2019 at 01:22:47:
In Reply to: Kuniyoshi posted by Shiro on December 10, 2019 at 21:33:22: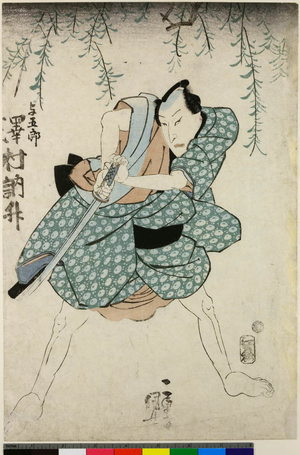 https://data.ukiyo-e.org/uploads/scaled/e91ab002ee078cf80e3189d312cf8649.jpg
Yes, it is indeed Kuniyoshi.
The British museum has an impression of this. According to them, it is probably from a multi-sheet composition, and likely depicts Sawamura Tosshō I as Yamazakiya Yogorō in an 1834 performance of "Dekiaki yawata matsuri".
https://research.britishmuseum.org/research/collection_online/collection_object_details.aspx?objectId=790513&partId=1
-A


---
---