Re: ID for a Japanese print
---
[ Follow Ups ] [ Post Followup ] [ Ukiyo-e Q & A ]
---
Posted by manuD (78.220.151.197) on December 15, 2019 at 08:25:59:
In Reply to: ID for a Japanese print posted by Lauren Otis on December 14, 2019 at 18:34:41: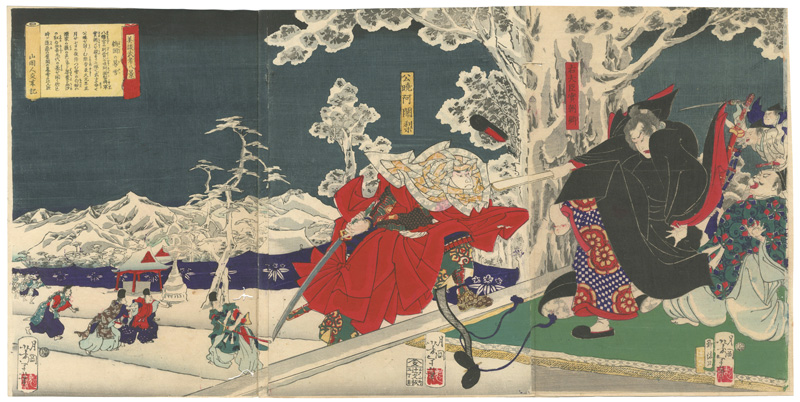 https://data.ukiyo-e.org/uploads/images/71cc710425fd63bc8285905506db0aaf.jpg
Print by Yoshitoshi, signing 月岡芳年筆 (Tsukioka Yoshitoshi hitsu).
title of series : 美談武者八景 Eight Views of the Episode of warriors
title of triptych : 鶴岡の暮雪 Twilight Snowfall at Tsuruoka
右大臣実朝卿 Udaijin Sanetomo kyo (Sanetomo the Minister of the Right)
公暁阿闍梨 Kinsato Ajari (?)
round seal: aratame / dragon 13 = 1868, 13th (intercalary) month
publisher : 錦盛堂 Kinsei-dō (Sanoya Tomigorō)
Between the signature and the publisher on the right-side panel, there is a cartouche that somebody else might read (carver seal ?).



---
---