Artist identity
---
[ Follow Ups ] [ Post Followup ] [ Ukiyo-e Q & A ]
---
Posted by Chris Brooks (136.34.249.19) on December 20, 2019 at 16:33:37: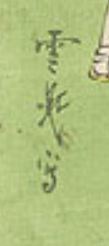 https://data.ukiyo-e.org/uploads/images/3f2c907f36a45a6b5af1444eed89a7b4.jpg
Hello
I have a composite print titled Kuwana in Ise Province: from the series Calligraphy and Pictures for the Fifty-three Stations of the Tōkaidō (Shoga gojūsan eki). There are copies in the Boston Museum of Fine Arts and the Japanese Art Open Database but the artist isn't identified. Attached is a link to the main image and attached is the artist's signature. I can use assistance in identifying the artist.
https://ukiyo-e.org/image/mfa/sc166878
Thanks
Chris


---
---