Re: Artist identity
---
[ Follow Ups ] [ Post Followup ] [ Ukiyo-e Q & A ]
---
Posted by Alec W. (174.105.163.103) on December 21, 2019 at 16:05:14:
In Reply to: Artist identity posted by Chris Brooks on December 20, 2019 at 16:33:37: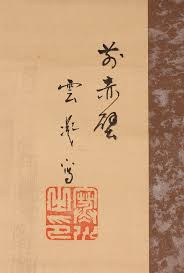 https://data.ukiyo-e.org/uploads/images/ae88660926fd80cbca64e32ca9c421b1.jpg
I believe the signature belongs to Samukawa Unchō 寒川雲晁 (born 1821), an artist most known as a Nanga painter. You can find various examples of his (painted) signatures with a search, but here's a sample that appears to support the attribution well.
As manuD says, this is an interesting series with a lot of difficult-to-identify signatures, especially in the insets. I have been spending some time on it since you posted, Chris, and will hopefully be able to identify at least a few of them!
-A


---
---