Toyokwa Hikokuni Siganture
---
[ Follow Ups ] [ Post Followup ] [ Ukiyo-e Q & A ]
---
Posted by Guy Pepermans (84.197.53.216) on February 04, 2020 at 17:18:48: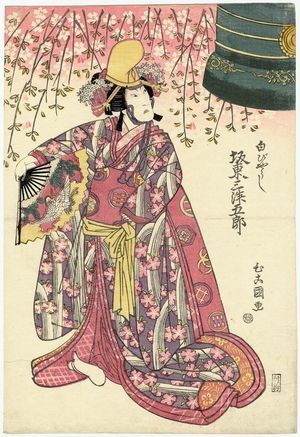 https://data.ukiyo-e.org/uploads/images/6d11ffa1e3b6574e7afc692d703dfc53.jpg
Interesting specimen of a signature by the Osaka designer Toyokawa Hikokuni (豊川彦国, active 1821-24).
Normally, Toyokawa Hikokuni's signature is written in the way mentioned above. However, two prints related to a kabuki performance during the 1st month 1822 have an alternative signature. There, the first two kanji are in cursive and derived from the characters 飛 (hi) and 古 (ko). So, the name Hikokuni is spelled as 飛古国.
Notice also the 'kiwame' censor's seal on this Osaka print.
Reference: https://collections.mfa.org/objects/455915/
Guy.



---
---