Re: Kunisada 1
---
[ Follow Ups ] [ Post Followup ] [ Ukiyo-e Q & A ]
---
Posted by Alec W. (174.105.163.103) on February 13, 2020 at 16:04:47:
In Reply to: Kunisada 1 posted by HEHE Galerie on February 13, 2020 at 13:39:14: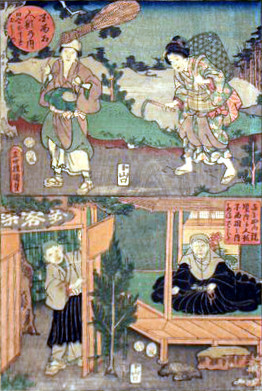 https://data.ukiyo-e.org/uploads/images/af956b47543a799b8bd1f3fa29db08dc.jpg
Yes, the censor/date seals are for 1857, 5th month. The publisher is Yamaguchiya Tōbei.
Having found an image of the whole design, I see that it appears to be signed "Baichōrō Kunisada" 梅蝶楼国貞, and is therefore the work of Kunisada II.
https://e-nobiru.com/detail_13459.asp#group-13
It is difficult to make out the series title on that small image, but it may be the series listed in Marks as "Ryōmensō ningyō no uchi" 両面相人形の内.
-A


---
---