Re: Hokusai Print with Kobayashi Bunshic
---
[ Follow Ups ] [ Post Followup ] [ Ukiyo-e Q & A ]
---
Posted by Alec W. (174.105.163.103) on February 24, 2020 at 00:30:31:
In Reply to: Hokusai Print with Kobayashi Bunshichi S posted by fdecampredon on February 23, 2020 at 19:23:00: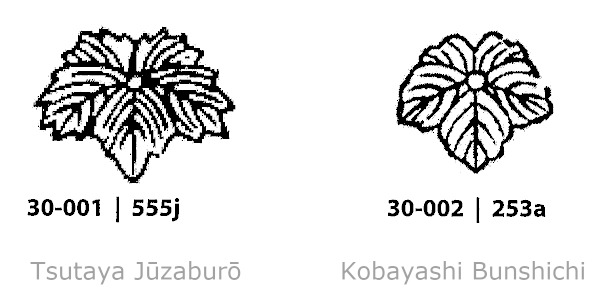 https://data.ukiyo-e.org/uploads/images/082ca1a05c1d4c24ea62098ebcdd021f.jpg
The Kobayashi Bunshichi seal in question is very similar to a seal used by Tsutaya Jūzaburō (see image), and Tsutaya did publish a fair amount of work by Hokusai, so it's worth taking a closer look to see which seal is present.
Kobayashi Bunshichi ran a publishing house that, according to Marks, published reproductions and unserialized landscapes by Uehara Shonen.
So I see three possibilities here:
(1) the seal belongs to Tsutaya Jūzaburō, and the print was made with original blocks from that publisher, or
(2) the seal belongs to Tsutaya Jūzaburō, but is from a reproduction that copied the old seal as part of the design, or
(3) the seal belongs to Kobayashi Bunshichi, and is a reproduction.
-A


---
---