Gull and Rocks
---
[ Follow Ups ] [ Post Followup ] [ Ukiyo-e Q & A ]
---
Posted by slrstcs@gmail (107.9.39.47) on March 08, 2020 at 13:24:23: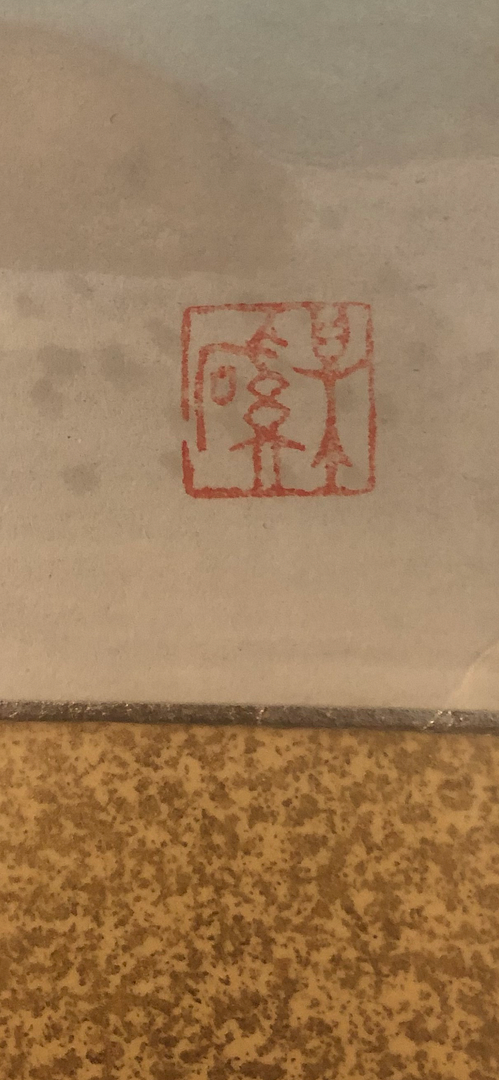 https://hosting.photobucket.com/images/i/Slrstcs/0/8AA86C31-7DC3-4862-BA3A-BE25FA029FA1.png
Hi-
I apologize for reposting this, but I had some trouble with Photobucket earlier in the week. Any help with this ID would be incredible.
My mother just inherited a picture she remembers her parents buying when they lived in Japan back in the 1960s. She has always loved this, and I have also been around it for my whole life. I have really been hoping to get her any info I can about the artist. Iíve spent a lot of time browsing online databases of artist seals, but no luck yet. I have learned about kachō-e, covering bird and flower prints, and it seems like this would be from the shin-hanga art movement. I donít see any signature other than a red seal. Mostly just looking for a name, so I can learn the story of the artist and share it with my mother.
She has always thought this is a watercolor, but I assume it is a print. Does anyone have a guess?
Here is the seal (also, hopefully, attached to this post):
https://hosting.photobucket.com/images/i/Slrstcs/0/8AA86C31-7DC3-4862-BA3A-BE25FA029FA1.png
Here is a detail of the work:
https://hosting.photobucket.com/images/i/Slrstcs/0/523212A7-12BB-4417-BAB1-695B48A7C3AD.jpeg
Here is the work so you can see positioning of the seal:
https://hosting.photobucket.com/images/i/Slrstcs/0/1416F0D7-55DD-4E5C-B82C-4BC897CA5301.jpeg


---
---