Re: Any ID on this Kuniyoshi
---
[ Follow Ups ] [ Post Followup ] [ Ukiyo-e Q & A ]
---
Posted by Hans Olof Johansson (80.217.98.9) on March 21, 2020 at 00:03:54:
In Reply to: Re: Any ID on this Kuniyoshi posted by Lucienne on March 20, 2020 at 10:56:20: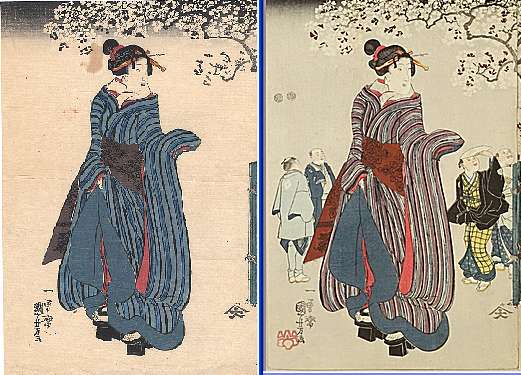 https://data.ukiyo-e.org/uploads/images/208cbebc2ea4fe061217a2afc6c358a9.jpg
Gwynn,
A very good find by Lucienne!
The complete triptych is also represented in the website of MFA (see https://collections.mfa.org/objects/461331), with the title "Yayoi no yozakura" (弥生之夜桜 - "Cherry Blossoms at Night in the Third Month"). The censor's seals appear to be Mera and Murata, a combination that was used about 1847-1850.
Your print was probably published a little later, using the same woodblocks as the left panel of the triptych and after the four men in the background had been erased.
Best regards,
Hans Olof


---
---