Re: Who could be the artiest and what is
---
[ Follow Ups ] [ Post Followup ] [ Ukiyo-e Q & A ]
---
Posted by Alec W. (174.105.163.103) on March 22, 2020 at 18:12:56:
In Reply to: Who could be the artiest and what is the posted by Dean on March 22, 2020 at 17:41:30: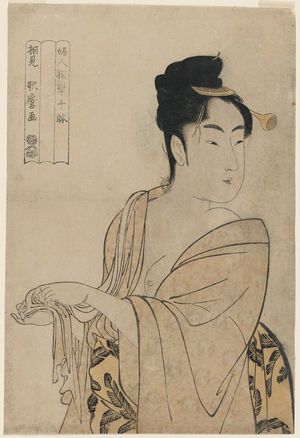 https://data.ukiyo-e.org/mfa/scaled/sc156286.jpg
The design comes from two closely-related early Utamaro series, "Fujin Sōgaku Jittai" and "Fujo Ninsō Juppin", c. 1792-1793. This design is "Uwaki no Sō" (浮気之相), "The Fickle Type" or "The Fancy-free Type".
For more on these series, see:
https://en.wikipedia.org/wiki/Fujin_S%C5%8Dgaku_Jittai_and_Fujo_Nins%C5%8D_Juppin
For an even deeper dive, I recommend the book "Utamaro and the Spectacle of Beauty" by Julie Nelson Davis.
-A


---
---