Questions about Shinobazu Benzaiten prin
---
[ Follow Ups ] [ Post Followup ] [ Ukiyo-e Q & A ]
---
Posted by Alec W. (174.105.163.103) on April 27, 2020 at 05:11:12: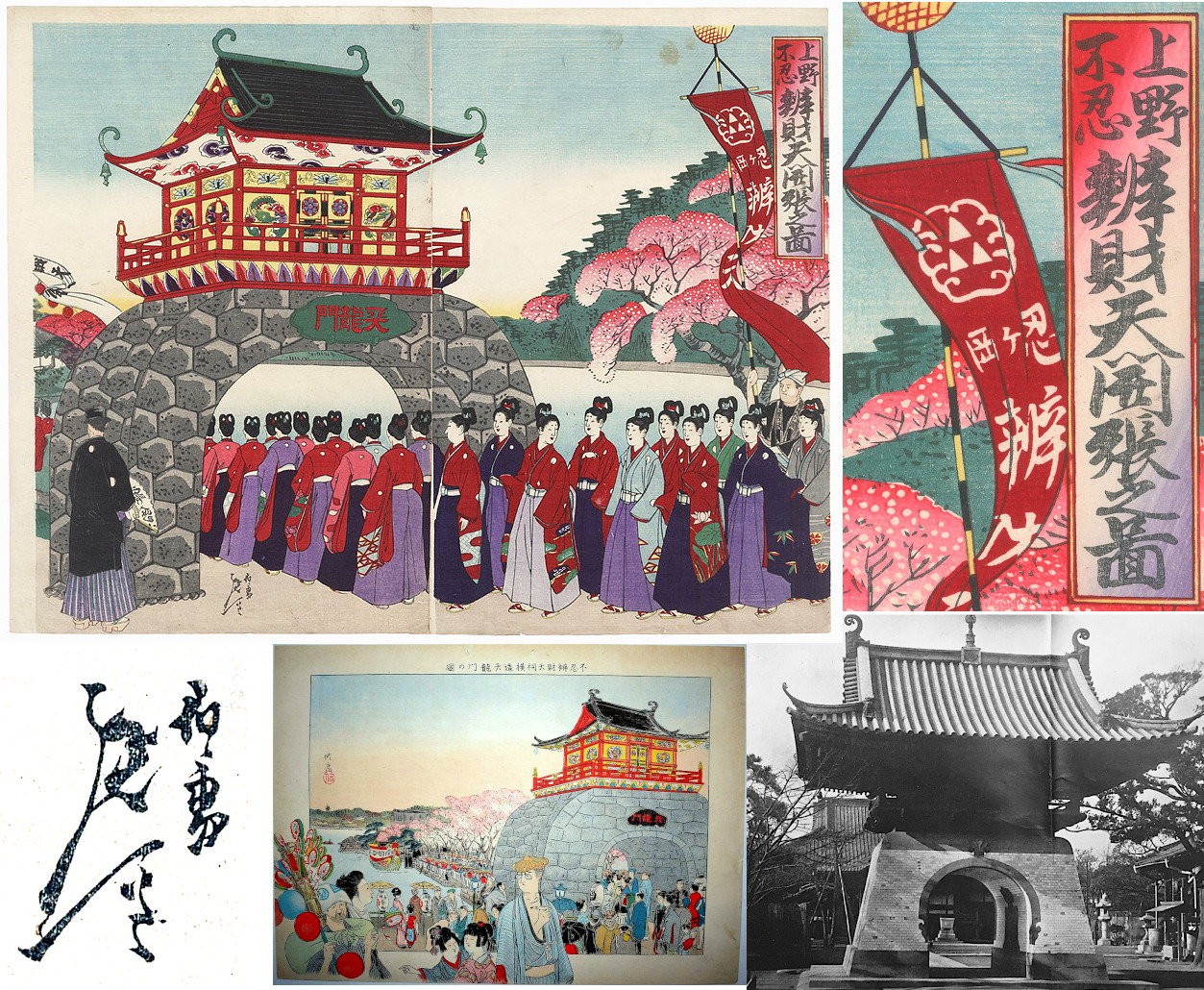 https://data.ukiyo-e.org/uploads/images/77537c73fdca198a84621e8ded7a3cbe.jpg
I've recently acquired an interesting print depicting what appears to be a procession at the gate of Shinobazu Bentendō (see top left of attached image), and I have a number of questions I've struggled to answer on my own.
First, the signature (see bottom left). At least I *think* it's a signature. I'm unsure of any of the kanji. The kanji at the top left reminds me of "廣" as signed by Terasaki Kōgyō, but I'm not even sure of that.
Second, the title. My reading is "Ueno Shinobazu Benzaiten kaichō kore ni men" 上野 不忍 弁財天開帳之に面, but I'm not sure about the last bit. And if it is right, how to translate?
Third, that gate is odd. It appears to be labeled "Tenryūmon" 天龍門, and I have found one other image showing what is certainly the same structure (see bottom center). There's a lot of information relating to a "Tenryūmon" that stood on or near that spot from 1914 to 1945, but that was a rather more elegant structure with totally different proportions (see bottom right). Perhaps the gate pictured in the two prints is an earlier, short-lived one, possibly built after the racetrack closed in 1892?
Thanks in advance for any insights!
-A


---
---