Re: Any information on this print please
---
[ Follow Ups ] [ Post Followup ] [ Ukiyo-e Q & A ]
---
Posted by Alec W. (174.105.163.103) on May 23, 2020 at 17:57:55:
In Reply to: Any information on this print please? posted by David B. on May 23, 2020 at 10:27:20: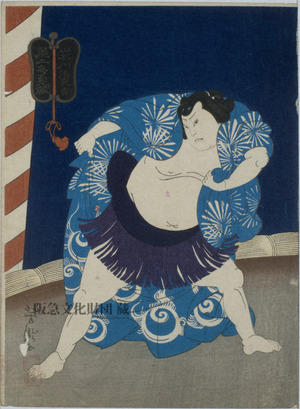 https://data.ukiyo-e.org/uploads/scaled/c215dde777b03a6d362bf8090ecbf2a9.jpg
The signature belongs to Osaka-based print designer Yoshitaki, signing "ōju Yoshitaki ga" 應需 芳瀧画.
I don't know who the depicted figure is, but, given the striped poles, blue backdrop, and girthy physique, I take him to be a wrestler.
Here's another Yoshitaki sumo-themed print that has some similar elements:
http://www.hankyu-bunka.or.jp/archive/?app=shiryo&mode=detail&data_id=206963
-A


---
---