Meiji-era artist
---
[ Follow Ups ] [ Post Followup ] [ Ukiyo-e Q & A ]
---
Posted by Alec W. (174.105.163.103) on May 24, 2020 at 20:12:48: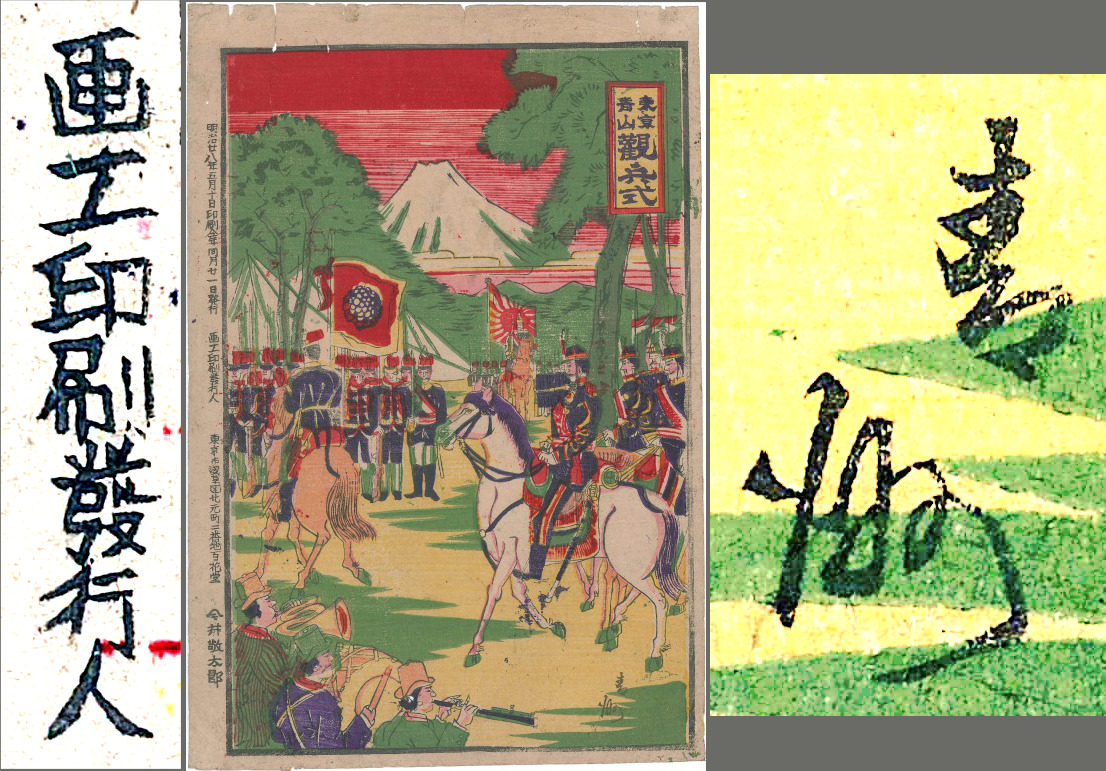 https://data.ukiyo-e.org/uploads/images/dcac9b024dd54501bd643eb3c0927e7a.jpg
I've recently acquired a Meiji-era "Tōkyō meishō" print that I'm hoping someone might have some insight into. The print, published by Imai Keitarō in 1895, bears a signature that appears to read "Seishū" 青洲 (though I have not totally ruled out "Shunshū" 春洲). I have found three designs with identical colophons in institutional collections, see links below. The colophon includes the text 「画工印刷発行人」-- I'm not sure how to interpret that -- does is indicate that the publisher is also the designer? Marks lists the publisher (though not this series) but offers little information beyond the address.
Does anyone know anything about this series or the artist?
https://www.ukiyoesig.net/gallery/aw/043.jpg
https://searchworks.stanford.edu/view/11513931
https://digitalmuseum.rekibun.or.jp/edohaku/app/collection/detail?id=0187102029
https://digitalmuseum.rekibun.or.jp/edohaku/app/collection/detail?id=0187102004
Print title:
東京青山 観兵式 (Tōkyō Aoyama kanpei shiki [?])
Full text of colophon (my transcription):
明治廿八年五月十日印刷今年同月廿一日発行 画工印刷発行人 東京市浅草区浅草北元町二番地百花堂 今井敬太郎
Thanks!
-A


---
---