Re: Bridge and Torii scene
---
[ Follow Ups ] [ Post Followup ] [ Ukiyo-e Q & A ]
---
Posted by Alec W. (174.105.163.103) on May 28, 2020 at 18:15:51:
In Reply to: Bridge and Torii scene posted by Jeremy H. on May 28, 2020 at 11:36:30: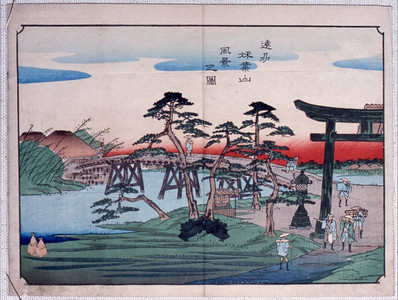 https://data.ukiyo-e.org/uploads/scaled/9f2d3562dcbf67a825833380e8ecbd75.jpg
The text reads "Enshū Akihasan fūkei no zu" 遠州秋葉山風景之図 ("View of Mount Akiha in Enshū"). ("Enshū" was an alternate name for the old Tōtōmi Province 遠江国.) There was an important temple at this location, of which Wikipedia says:
"Despite its remote mountain location, the temple became a popular pilgrimage detour from the Tōkaidō for pilgrims on their way to Ise Shrine or Kompira Shrine, or on their way back to Edo."
https://en.wikipedia.org/wiki/Akihasan_Hong%C5%AB_Akiha_Jinja
Here is an impression of what may be the original source for this design:
https://trc-adeac.trc.co.jp/WJ11F0/WJJS07U/2213005100/2213005100200010/mp001160
Given the design border, center fold, and lack of publication markings, I suppose this is probably from a book, perhaps one of the many about travels on the Tōkaidō Road. Unfortunately, the object record at ADEAC doesn't offer any clues about what book.
I believe the depicted location is the same, give or take, as pictured in this Hiroshige design:
https://collections.mfa.org/objects/200073/
-A


---
---