Re: Any help with this?
---
[ Follow Ups ] [ Post Followup ] [ Ukiyo-e Q & A ]
---
Posted by Alec W. (174.105.163.103) on June 01, 2020 at 17:56:17:
In Reply to: Any help with this? posted by Martin Clark on June 01, 2020 at 14:26:17: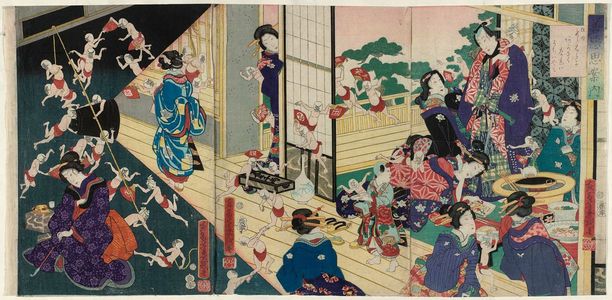 https://data.ukiyo-e.org/mfa/scaled/sc171607.jpg
This is the right sheet of a triptych design by Yoshiiku entitled "Zen'aku kokoro no annai" 善悪思案内. MFA Boston has an impression, and they offer the translation "A Guide to the Good and Bad Urges of the heart":
https://collections.mfa.org/objects/472123
The imagery appears to me to be a humorous mash-up of the good and evil spirits of Santō Kyōden's "Quick-dye mind study" with figures from the "Genji" universe.
-A


---
---