Re: identiefication booklet w japana
---
[ Follow Ups ] [ Post Followup ] [ Ukiyo-e Q & A ]
---
Posted by Alec W. (174.105.163.103) on June 03, 2020 at 15:12:02:
In Reply to: Re: identiefication booklet w japana posted by manuD on June 03, 2020 at 13:31:14: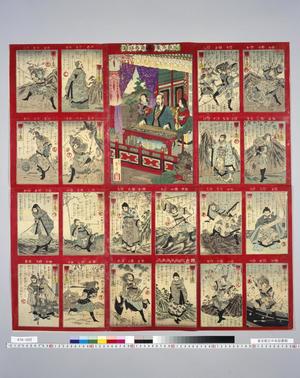 https://data.ukiyo-e.org/uploads/scaled/0743796386e19f6ffcd08b39a3b787e4.jpg
The artist behind the illustrated book at NDL is Katsushika Masahisa 葛飾 正久, more info here:
http://www.ne.jp/asahi/kato/yoshio/aiueo-zenesi/ma-zenesi/masahisa-katusika.html
But I don't think the posted image is from the same work.
I found a sugoroku board by Toshikata that is perhaps closer in spirit, though still clearly not the same work:
http://archive.library.metro.tokyo.jp/da/detail?tilcod=0000000004-00000418
I agree with manuD that the title on the cover slip seems like a generic album title, rather than that of a published work. Are there other pages in the volume with signatures or publication information?
-A


---
---