Re: Unknown Triptych
---
[ Follow Ups ] [ Post Followup ] [ Ukiyo-e Q & A ]
---
Posted by Alec W. (174.105.163.103) on June 12, 2020 at 22:23:18:
In Reply to: Re: Unknown Triptych posted by Alec W. on June 12, 2020 at 21:31:25: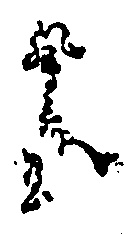 https://data.ukiyo-e.org/uploads/images/7b068d6fffc4d7f1a330a730e5f6b3e1.jpg
I found the artist! I was on the right track, just needed to follow a couple more leads...
The artist is Kasai Hōsai 笠井 鳳斎, a student of Yoshitoshi in the 1880s. He was a somewhat prolific book illustrator from about 1896-1905.
See, for comparison, the signature on this frontispiece illustration from the novel "Fukumi giyū-den" 福見義勇伝 (1897):
https://dl.ndl.go.jp/info:ndljp/pid/890809/3
Other (Japanese-language) references for the artist:
https://ja.wikipedia.org/wiki/%E7%AC%A0%E4%BA%95%E9%B3%B3%E6%96%8E
http://www.ne.jp/asahi/kato/yoshio/aiueo-zenesi/ho-zenesi/housai-kasai.html
-A


---
---