Re: Kabuki Toyokuni I
---
[ Follow Ups ] [ Post Followup ] [ Ukiyo-e Q & A ]
---
Posted by Alec W. (174.105.163.103) on June 15, 2020 at 06:14:55:
In Reply to: Kabuki Toyokuni I posted by EBG on June 14, 2020 at 18:54:01: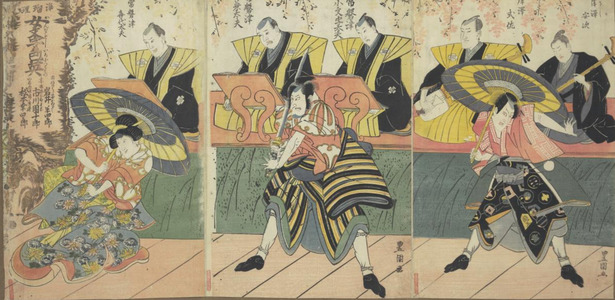 https://data.ukiyo-e.org/uploads/scaled/3fcfa91aa23955e5053cab2565174d79.jpg
The figure in the foreground is Ichikawa Danjūrō VII as Mega Magosaburō Nagamune 妻鹿孫三郎長宗 in "Yukimo Yoshino Kigoto no Kaomise" 雪吉野恵木顔鏡, performed at the Morita in 1812, 11th month.
The figures in the background are members of the Kishizawa family of shamisen players, rather than actors. The names here are Kishizawa Shikisa 岸沢式佐 and Kishizawa Yasuji(?) 岸沢安次.
Three panels of this design can be found here:
http://archive.library.metro.tokyo.jp/da/detail?tilcod=0000000003-00051986
Here's a sheet from a very similar composition, though from a performance a year later:
http://www.hankyu-bunka.or.jp/archive/?app=shiryo&mode=detail&data_id=208354
-A
---
---