Re: How to read Sadatoshi's go name
---
[ Follow Ups ] [ Post Followup ] [ Ukiyo-e Q & A ]
---
Posted by Horst Graebner (84.59.226.72) on June 21, 2020 at 10:26:07:
In Reply to: Re: How to read Sadatoshi's go name posted by Alec W. on June 20, 2020 at 20:19:43: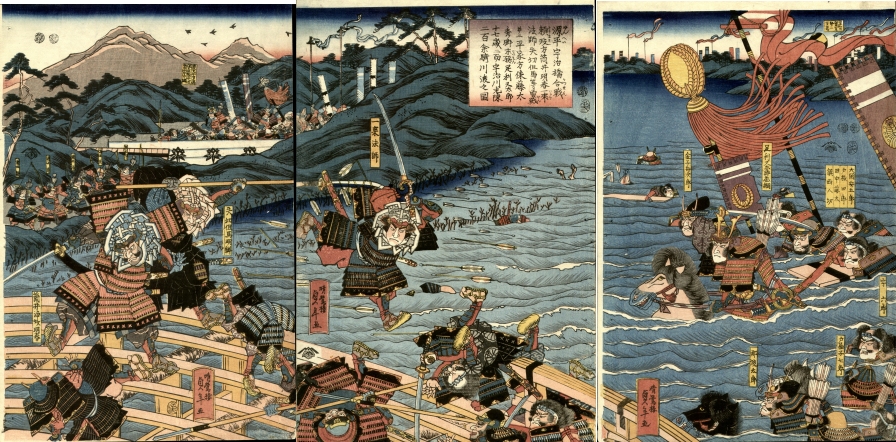 https://data.ukiyo-e.org/uploads/images/0cbc97e1d064aeb2a3fc48ad77c51df7.jpg
Dear Alec!
Thank you for your effort and thanks for the suggestion for reading. I had a similar idea, but somehow the 2nd and 3rd Kanji don't fit.
But sometimes the kanji was misspelled by the woodblock carver; since there is no possibility of comparison, the little riddle remains unsolved.
The print is a musha-e triptych from 1852: Battle of the Uji (River) Bridge during the Gempei Wars (…) - 源平宇治橋合戦 (...) 之圖 - Genpei Uji bashi kassen ... no zu. It shows the three warrior monks Tsutsui Jōmyō Meishū (筒井浄妙坊明秀), Yagiri Tajima Akisen(?) 矢切但馬明鮮(禅)(?) and Ichirai Hoshi (一来法師, on the print misspelled 一耒法師) who fight against the advancing troops of the Taira under Ashikaga Matatarō Tadatsuna (足利又太郎忠綱) (a copy of the print is at "WorthPoint", search for Sadatoshi, Genpei, Uji).
Horst


---
---