Re: ukiyo-e print
---
[ Follow Ups ] [ Post Followup ] [ Ukiyo-e Q & A ]
---
Posted by Alec W. (174.105.163.103) on June 21, 2020 at 18:30:24:
In Reply to: Re: ukiyo-e print posted by Horst Graebner on June 21, 2020 at 17:41:24: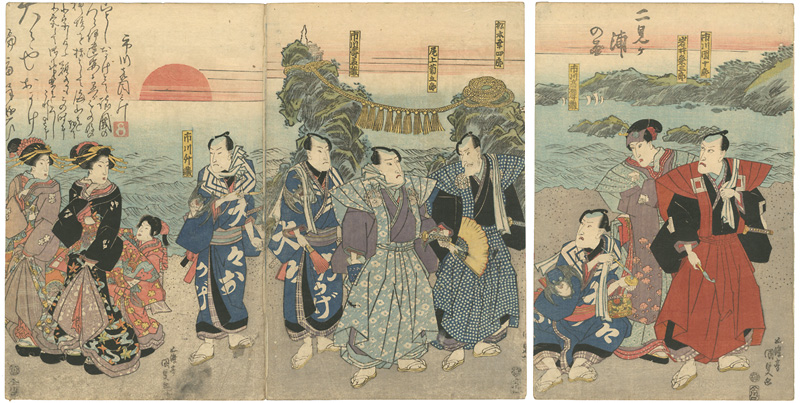 https://data.ukiyo-e.org/uploads/images/8d8de1a8403e9b6d0d7b19e19691868c.jpg
Horst --
I may be off-base here, but I think the actor is Ichikawa Masuzō III 市川升蔵 (here 市川升藏) -- this actor used many names in his career, but used this name (according to kabuki21) from 1827 to the end of his career, c. 1833.
In any event, I see Yamada-Shoten has a listing for (what I presume to be) the full triptych here:
https://www.yamada-shoten.com/onlinestore/detail.php?item_id=42257
Looks like the title is "Futamigaura no zu" 二見ヶ浦の図. I believe the publisher is Kawaguchiya Uhei 川口屋兵衛.
Best,
-A


---
---