Re: Signature id on fan print
---
[ Follow Ups ] [ Post Followup ] [ Ukiyo-e Q & A ]
---
Posted by Alec W. (174.105.163.103) on June 30, 2020 at 04:01:40:
In Reply to: Signature id on fan print posted by Michael on June 29, 2020 at 19:13:24: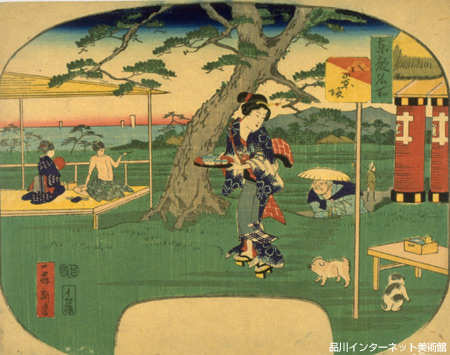 https://data.ukiyo-e.org/uploads/images/8afc5b41d075cc65e6faf09cb4308846.jpg
The name appears to me to read "Isshōsai" 一昇斎. This gō was certainly used by Utagawa Kunifuku 国福, apparently used by Utagawa Shigetsugu 重次, and possibly used by Shōsai Ikkei 昇斎一景.
There is an impression of this design pictured at Shinagawa Internet Museum of Art:
http://www2.shinagawa-culture.or.jp/i_museum/?cat=18
They assign the design to Kunitsugu, and date it to 1857. Independent documentation of Shigetsugu's use of this gō appears to be hard to come by; he certainly used "Isshōsai" 一笑斎, but I haven't seen much supporting his use of "一昇斎".
-A


---
---