Re: Hiroshige - authenticity?
---
[ Follow Ups ] [ Post Followup ] [ Ukiyo-e Q & A ]
---
Posted by Alec W. (174.105.163.103) on July 03, 2020 at 16:55:11:
In Reply to: Hiroshige - authenticity? posted by Alexander B on July 03, 2020 at 00:35:47: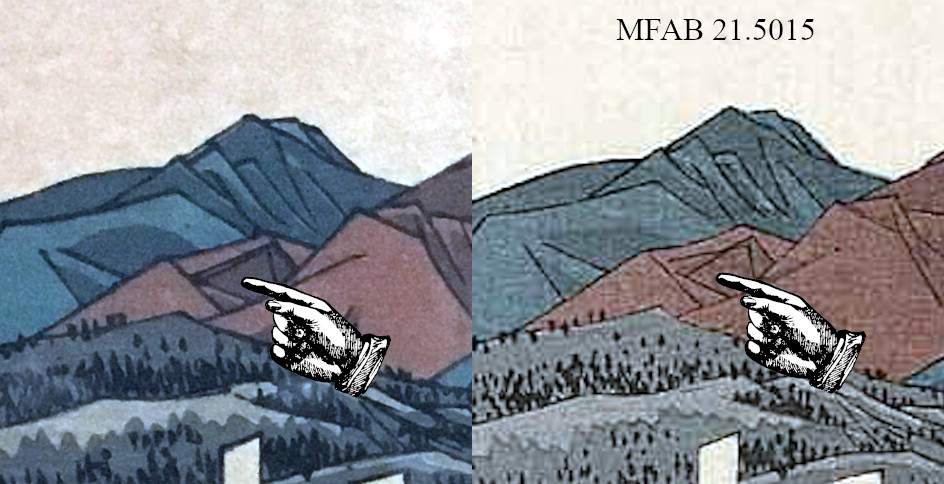 https://data.ukiyo-e.org/uploads/images/512f19bf2c1254424014ae495d63eaa8.jpg
The best advice I can offer is to study the keyblock impression carefully against a known original. This can be a little tricky, since warping of the paper and wear and tear on the printing block can produce some variation as well, but look for differences that can't be easily explained by these effects. (Don't worry about color block variation -- changes to these blocks were common even during original print runs.)
For example, have a look at this comparison between your print and one from the Spaulding collection at the MFA Boston. The geometry of some of the mountain contours looks distinctly different to my eye, so I would assume this is a reprint.
Hiroshige designs have been very extensively reprinted over the last century-plus, so in my opinion you should generally assume any well-preserved Hiroshige print you see to be a reprint unless you have a good reason to think otherwise.
-A


---
---