Signature of Ryutei Munemasa / Soga
---
[ Follow Ups ] [ Post Followup ] [ Ukiyo-e Q & A ]
---
Posted by Boyko Skole (176.106.204.132) on July 05, 2020 at 17:26:19: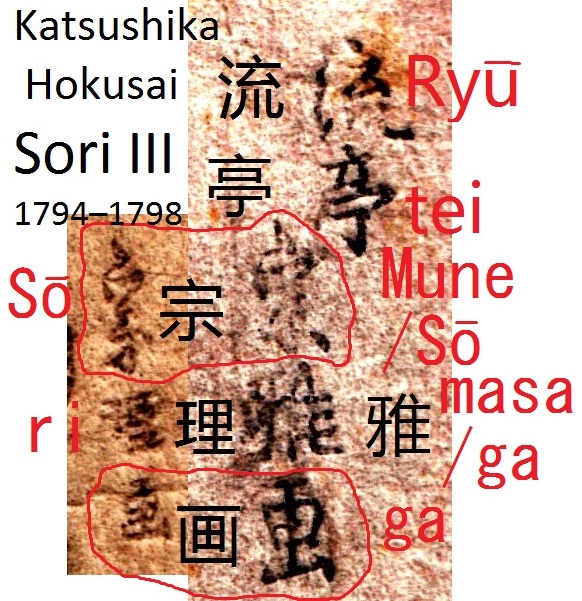 https://data.ukiyo-e.org/uploads/images/07964d086486d1c48635c1a8fdaee5d3.jpg
Dear members of the forum!
Thank you very much for the correction!
Dear manuD, your reading of the signature is done in the right direction.
Dear Alec, your additions have finally dispelled my doubts.
Dear Guy Peppermans is your example of Shuri's signature too
helped to understand the falsity of my trial identification.
However, over the past month, I have not been able to find the artist to whom this signature belongs - Ryutei Munemasa/Soga. It comes from surimono without any accompanying inscription. It is also pasted next to (to the left) of another surimono performed by Katsushika Hokusai. On it, in addition to the signature of Sori III (宗理画-Sôri ga), there are (I suppose) dedications of three different persons.
Of course, the idea that Katsushika Hokusai is also hiding under the signature of Ryutei Munemasa/Soga is tempting. However, the spelling of the hieroglyph 宗 (So/Mune) is very similar. In addition, another similarly decorated cardboard is pasted with another more famous Hokusai surimono "Ferry Boat Passing Bridge Pillar" signed by Sori III (宗理画-Sôri ga). Unlike the Boston Museum of Fine Arts (https://collections.mfa.org/objects/212837/ferry-boat-passing-bridge-pillar?ctx=33993df9-fbea-42d3-9aa4-c16d5c641ff2&idx=0), it has different colors and two or two more dedications. That is, it has a longer left side, which is previously trimmed.
So, once again I ask for the help of dear members of the forum at least some information about the owner of this signature.
Best regards Boyko


---
---