Re: Artist identity
---
[ Follow Ups ] [ Post Followup ] [ Ukiyo-e Q & A ]
---
Posted by Hans Olof Johansson (83.252.64.52) on July 07, 2020 at 11:28:55:
In Reply to: Re: Artist identity posted by manuD on July 06, 2020 at 20:42:55: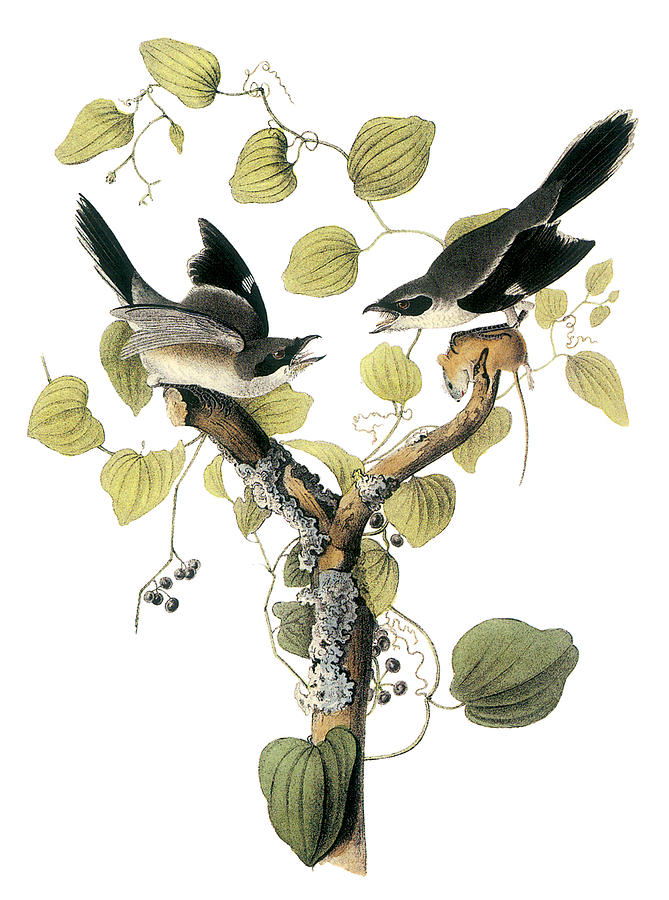 https://data.ukiyo-e.org/uploads/images/ea4ef40c0c42cbd20e1a0374047b0d05.jpg
Well, manuD, I do believe that Hod˘ really intended to depict a shrike, given the title of the print. However I don't think it's an accurate depiction, except perhaps for the colour nuances of the plumage. Anatomically, I think his bird looks more like a hawk, or even a sparrow with a hawk's beak. Compare Audubon's depiction above of a pair of American loggerhead shrikes, not only concentrating on their anatomy, but also on their "quarrelsome disposition".
Kach˘ga - pictures of flowers (or plants) and birds - was a popular genre on the fringe of ukiyo-e, and it can be interesting to study the differences between the Japanese and the Western naturalist painters.
Best regards,
Hans Olof


---
---