Kuniyoshi two actors print
---
[ Follow Ups ] [ Post Followup ] [ Ukiyo-e Q & A ]
---
Posted by Judy Hahn (75.104.38.138) on July 17, 2020 at 03:54:40: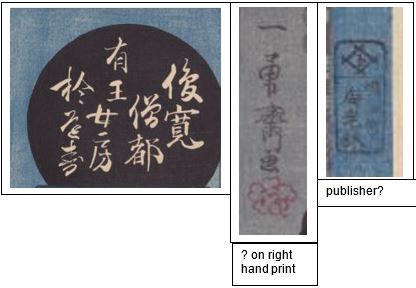 https://data.ukiyo-e.org/uploads/images/4ba3267e78cc244a5784f976c6ef98b7.jpg
The whole print will be posted on a following posting. The Kuniyoshi signature is clear on the left hand part near the woman.
But there are three things I can't identify:
- the title (?) in the large circle
- another artist or the identity of the man or ? on the right hand panel
- the publisher of the print
ANy help will be greatly appreciated. Thank You!


---
---